Our mission is to keep the integrity of Romana's Pilates alive, through a positive attitude and environment. Romana's Pilates is based on the original teachings of Joseph Pilates.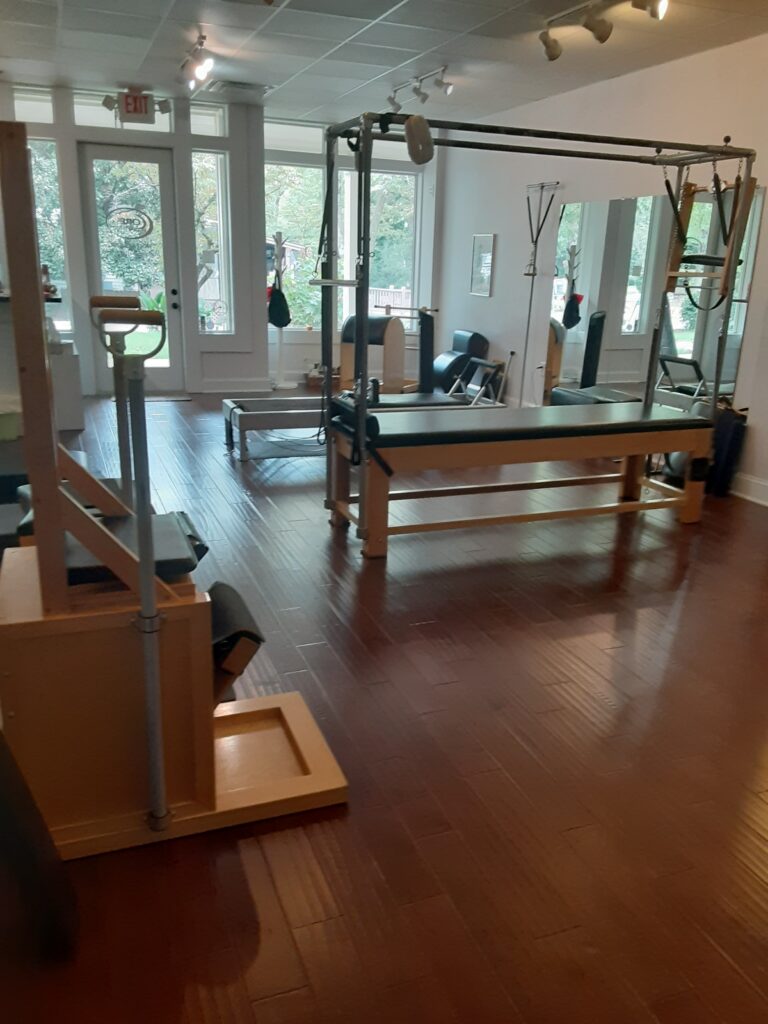 Benefits Of Pilates
Pilates is done by individuals of all ages.
Pilates has been endorsed by professional dancers, artists, and athletes to improve overall conditioning and prevent injury.
Pilates can be used safely by pregnant women to learn proper breathing and recover their body shape during and after pregnancy.
Pilates increases circulation and helps to sculpt the body's "powerhouse" (the area between the bottom of your ribcage & the line across your hips).
People who do Pilates regularly feel they have better posture, are less prone to injury, and experience better overall health.
If coming three times a week, after 10 sessions you will feel better, after 20 sessions you will look better and after 30 sessions you will have a new body.

Joseph Pilates
I came to my love of movement through ballet. After 12 years of dancing professionally, I found Pilates – which was another way of moving and expressing my body while keeping flexibility. It was also a way for me to help others learn to move efficiently in their daily lives. Pilates is my passion and I love helping others feel better.

Emily Bradley
Owner & Certified Level 4 Pilates Instructor
What Our Clients Say About Us
This is a great classical studio with all the Gratz equipment. I did Pilates with Emily throughout my entire pregnancy and it helped with my delivery. I was able to lose my baby weight very quickly.

April V.
If you want to learn or even try Pilates, I recommend Emily's with two thumbs up. This is traditional Pilates and her techniques for mats and privates are those of Joseph Pilates, because Emily's teacher learned from Joe. You can't get much better than that. Above all, she is patient and is such a wonderful teacher. I was a complete beginner and have learned so much. The benefits are that you can strengthen your core, increase strength and flexibility, tone your muscles, and achieve more balance throughout your body.

Shelli – 40 yrs
I have been with Emily for over 12 years. She has been a lifesaver for me. Pilates will give you great results quickly if you put in the work. Tailored to your specific needs. Great location, peaceful and charming. Effective for all ages. I am nearly 72. Men and women, also sports and dancers.

Vicki B.
Emily is such a lovely person. Very personable and knowledgeable about her craft.i just love the studio environment and the great work they do to help me stay strong, balanced and flexible.

Gnosisia J.
I first worked with Emily as a professional ballet dancer. I knew that she would bring all of the body consciousness of a ballet trained dancer to her Pilates, training and growing into the Pilates instructor that she has become.

Maria – 54 yrs
Emily is professional and overall an amazing Pilates trainer with a personal touch that works for everyone. She has a fully equipped studio and is available to teach group and private classes. If you have back pain or other issues, make sure to start Pilates as soon as possible! The exercise schedule is built around recovery, flexibility and core strength.

Pavel – 37